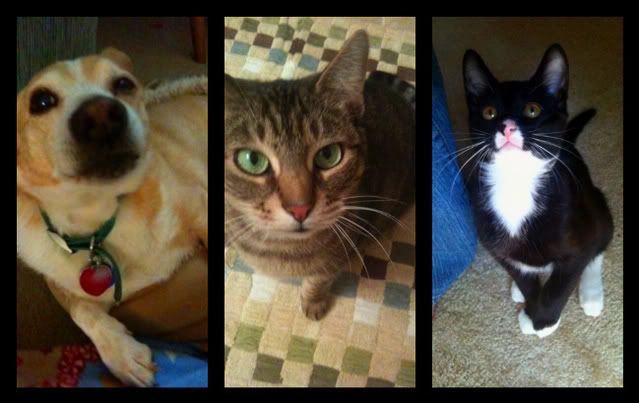 These are my three kids. Gizmo, Aries, and our newest Stilton. Aside from
cooking
they take up most of my life.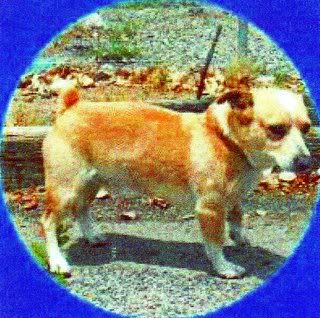 Gizmo is an 'old man' Corgi Jack Russell mix. He loves to sleep and protect his treats, bedding , food and toys from the kitty's. His little bed he sleeps in is really a cat bed, but he fits right in it. He likes to play tug-o-war, and likes to stop and 'smell the roses'. That is the earliest picture we have of Gizmo. His name was Max, and he was found under a van and put up for adoption.
Aries is the Queen of the castle (a two room apartment). She enjoys her food, sleeping and drinking water straight from the sink. Her favorite toy is a red ribbon with a cork tied to the end. She's my lap warmer/snuggle buddy. She was given to Adam by a friend.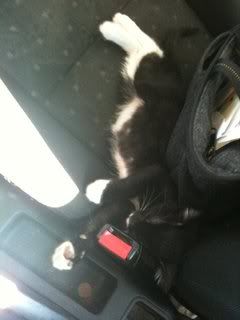 Stilton is my little man. He loves to get into everything, tries to eat everything, and plays with everything. His favorite toy is a
little pink sock
my dad got for him. He likes to play fetch and tug-o-war. He loves to bite everyones (ours and the other animals) ankles. He's a hand full but we love him. My mom gave him to me for my birthday, she rescued him from some mean lady that was going to toss him in the trash. He loves to watch me cook, I'm sure if I let him he'd get a paw in it to help.
The Daily Meow and an Occasional Woof is just a place to share all the goofy animal stories, and crazy animal pictures from my little mutts. If you have any cute and goofy animal stories and/or pictures you would like to share, send me an email (ki13wi@gmail.com) and I will share them with everyone!